Data shows bearish sentiment among the Ethereum investors has shot up as the asset's price has dipped under the $1,600 level.
Ethereum Has Declined Under The $1,600 Mark Recently
Around the start of this month, Ethereum enjoyed some sharp upward momentum as the cryptocurrency reached the $1,750 level. Since that peak, however, the coin has struggled, as its price has now declined again under the $1,600 mark.
Yesterday, ETH even retested a brief $1,550, but the asset quickly found a rebound and has so far held above the level, as the chart below shows.
ETH has registered a drawdown in the past couple of days | Source: ETHUSD on TradingView
The bounce has been small, however, meaning that Ethereum could be in danger of making another retest of the $1,550 level in the coming days. Something that may hold hints regarding if more decline is coming could be the investor sentiment.
ETH Social Dominance Spike May Suggest Increase In Market FUD
According to data from the on-chain analytics firm Santiment, the social dominance of the asset has seen a large increase since the recent volatility occurred.
The "social dominance" here refers to an indicator that keeps track of the percentage of discussions on social media related to the top 100 assets in the cryptocurrency sector that involve the topic of Ethereum.
When the value of this metric is high, ETH-related discussions make up a significant part of the total discussions related to the sector.
On the other hand, low values imply that cryptocurrency doesn't have much mindshare on social media right now, at least when compared to the other top assets in the market. Now, here is a chart that shows the trend in Ethereum's social dominance over the past year: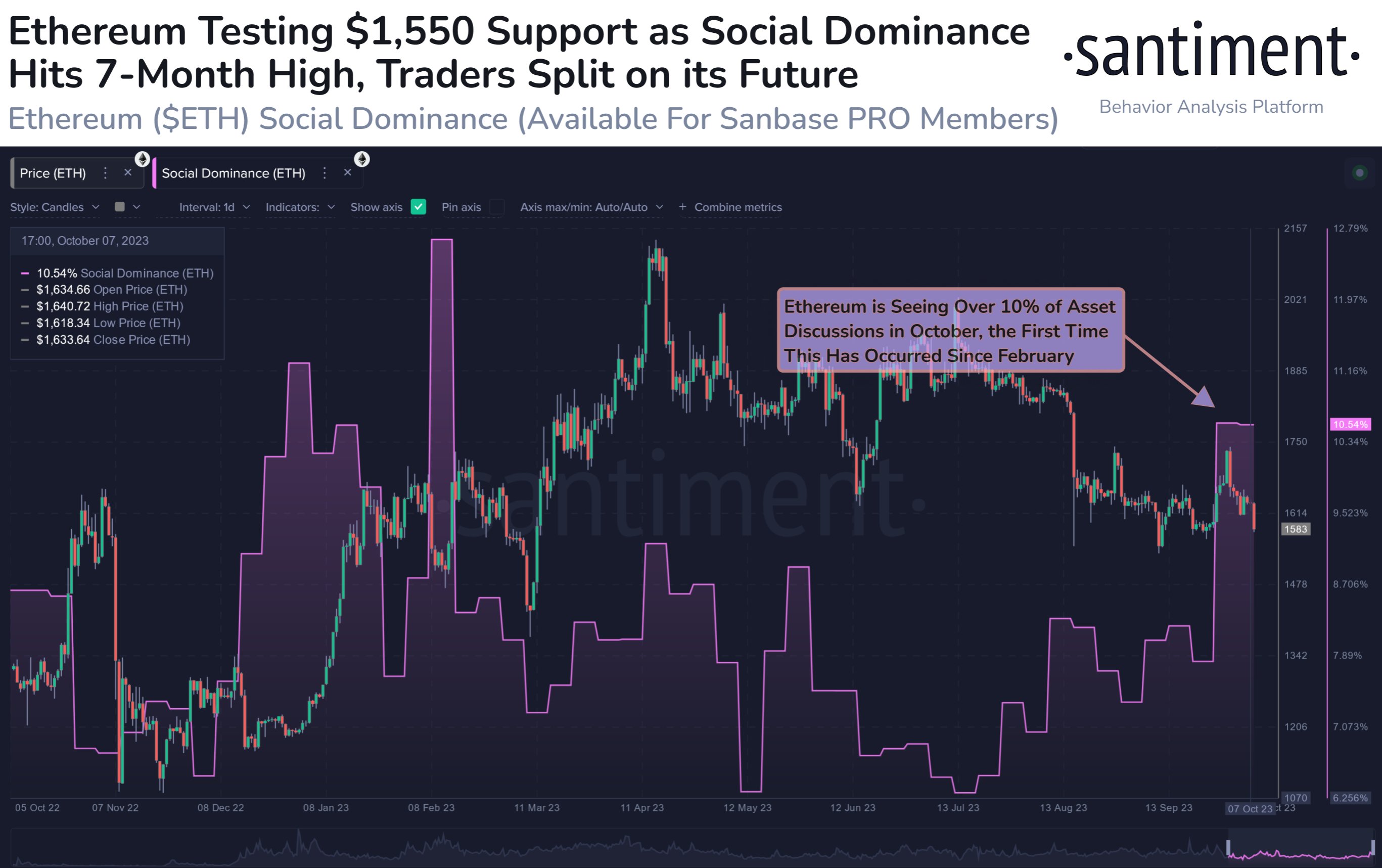 The value of the metric seems to have spiked in recent days | Source: Santiment on X
The above graph shows that Ethereum's social dominance has sharply increased this month. This increase in interest around the asset on social media first came with the price rally above $1,700, but the indicator's value remained high even after the decline.
Generally, a high amount of social media talk after a plunge is a sign of rising FUD in the market, as traders take to these platforms to express their panic about the cryptocurrency's situation.
However, Such a bearish sentiment has often been positive for the asset's price in the past. The chart shows that the rebound back in March had occurred as the social dominance had been at very high levels.
At the current value of the indicator, more than 10% of discussions related to the top 100 assets are about Ethereum. "Rising bearish sentiment is a good sign of an impending turnaround," explains Santiment.
It remains to be seen whether Ethereum has already found its bottom or if there is still more downside before ETH can witness a rebound.
Featured image from iStock.com, charts from TradingView.com, Santiment.net